Many things can make a backyard great—from entertainment features like a custom BBQ set to the garden and pool landscaping. If your plant life is in need of a makeover or you're simply starting from dirt and weeds, here's a little inspiration and know-how to get going.
Japanese Zen Garden
Imagine a space that's as inviting and serene as it is minimal. Transform your pool area with bamboo-lined fencing and a stone path leading to a fountain or Buddha statue. Plant Japanese Maple or Blood Grass for romantic reds and pinks, or line the deck with Bonsai trees. Build a koi pond enclosed by strategically placed decorative rocks. Add a built-in waterfall to your custom inground pool and you'll never want to leave the backyard. The key to Japanese design is simplicity, so don't overcrowd the garden.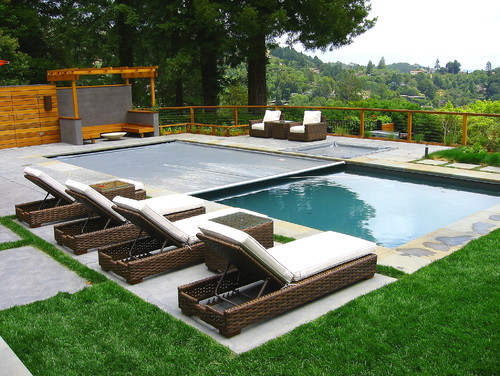 Southwest Garden Oasis
Drawing inspiration from states like Arizona and New Mexico, desert-themed pool landscaping is beautiful and low maintenance. You won't fear endless hours of cleaning fallen leaves and trimming overgrown shrubs if you stick with cacti and potted succulents. Aloe grows well in direct sunlight and—as an added bonus—serves as a natural remedy for your child's inevitable sunburn from back-to-back summer pool parties. Fill empty spaces with a mix of gravel, stone, and boulders. Decorate the lounge area with gold, orange, and red tones.
Beachy Keen Garden
Get coastal by cultivating a garden that pays homage to the endless sea. Opt for low-growing plants like sea thrift and clusters of hen-and-chick succulents. Beach gardens will need little upkeep if you strategize with tumbled stones mixed with thriving perennials or annuals. Palm trees require occasional pruning but are well worth the effort for the invocation of paradise (not to mention shade). Repurpose an old wooden pallet to serve as a vibrant backdrop or beach sign and replace metal patio furniture with wooden deck chairs. From vintage anchors to oversized sea shells spread throughout the garden, beach-inspired pool landscaping has never been more fun.
Romantic Retreat Garden
Beautiful flowers and healthy lush plants make this idea come to life, though they may be the most burdensome when it comes to maintenance and cleanup. To avoid dragging yourself into endless hours of both, choose several large plants that produce minimal leaf litter along with bushes such as Calliandra fairy dusters or calico bushes. Let a vine-covered pergola stand as your garden's main attraction to complete the dreamy landscape. You can't go wrong with classic roses, dainty Coralbells, stunning blue Delphinium, and massive Hollyhocks. Don't shy away from incorporating several different plant species so that no matter the season, you always have a gorgeous, colorful yard.
Tips for a Successful Poolside Garden
Minimize future yard duties by starting your garden at least six feet from the water's edge. This will lessen the impact of debris that will end up floating in the pool and clogging the filter.
Use pots for plant variety and optimal growth without the interference of splashing water or destructive animals and children. Though they typically require more water than a garden bed, pots and large containers allow for mobility in inclement weather.
Be realistic. Research each tree, flower, and shrub to understand the maintenance involved and how it will fare in high-traffic areas like the pool. A professional landscaper will be able to guide you toward preferable plants no matter your vision or theme.
Pool landscaping options are limitless. With careful attention to design and the maintenance of your yard as a whole, your backyard will be as functional as it is gorgeous. Now—how will your garden grow?